Guidance at Every Step
If you're completely new to this kind of training or feel overwhelmed by what seems like a more technical approach to training, don't worry.

We have plenty of experience in delivering virtual training. Our learning professionals and support staff will be there to support you regardless of your questions.

How Does it Work?
Our virtual learning courses use GoToTraining software by LogMeIn. Before you start your course we will ensure that you meet the system requirements and run a test meeting to ensure the software is compatible with your firewall settings (if it doesn't work we can help you adjust your settings or contact your IT department about permitting the website).
Attendee Quick Start Guide
Below is a short video which will give you an overview of GoToTraining and how to get started.
Joining a Training Session
Below is a short video that will show you how to join a GoToTraining session.

A Simple 5 Step Process:
Step 1 - Just before the course begins you will be able to launch the software and familiarise yourself with the interface and how the virtual interactions work.

Step 2 - During each session, you will be able to hear everything the learning professional is describing and view exactly what they are demonstrating, directly on your screen.

Step 3 - You can communicate with the learning professional during each session by audio (telephone or VoIP) and chat within the GoToTraining control panel.

Step 4 - Towards the end of the course, there will be plenty of time for detailed Q&As with the learning professional.

Step 5 - Following the course, you can complete a course evaluation form to give detailed feedback on your experience and help us to make future improvements.
Customer Feedback
We work with the biggest brands in Ireland including Ericsson, Coca Cola & Google, so you can have confidence in our ability to deliver excellent training programmes for your team or your business. Don't just take our word for it.

GoToTraining Features
GoToTraining is the simplest answer to online learning, with the most reliable features to help you before, during and after your sessions.
Using GoToTraining we will enrich your online training experience any time, anywhere with easy-to-use interactive tools that engage students and improve learning.
Simplicity - No IT support required. You can start training online in minutes

Engagement - The GoToTraining easy-to-use interface and interactive training tools will keep you immersed in your content and help you retain more information

Mobile Training - You can join training sessions from their iPhone, iPad or Android device

Breakouts - Our instructors can create and monitor up to six Breakout sessions. Each Breakout can view PDFs, pictures and YouTube or Vimeo videos. Collaborate and edit docs such as spreadsheets, drawings or presentations

Hand Raising - Attendees can signal when they need to ask a question

Polls and Chat - We use polls and chat to increase interactivity and get immediate feedback

Video-Sharing - We will share YouTube and Vimeo videos with you during the session

Document Collaboration - We will share, collaborate, participate in activities and review work

Supporting Information:
If you have any issues that can't be resolved, or if any problems persist and need further investigation, please forward details to info@dcmlearning.ie where the training team will be happy to offer further support.
GoToTraining customer support 
GoToTraining FAQs 
GoToTraining firewall support 
GoToTraining audio support 
Connection issues
Related Posts
5 Learning & Development Podcasts Worth Listening To
Learning and Development • Podcast
How To Deal with Difficult People | Short Video
Difficult People • Management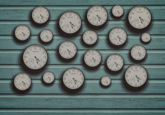 Time Management | Top 5 Best Time Management Books of All Time
Management • Sale