Improve your lean techniques with these brilliant games. People are so much more willing to challenge working practices in a simulated environment and are quick to identify waste in the system. This provides ideal foundations for starting to challenge and find opportunities in their own areas of work.
1. The Torch Game
The Torch Game is a manufacturing simulation based around assembling torches, with larger components it requires less dexterity than the plug game. A number of components have been modified to cause defects during assembly, therefore the simulation is ideal for reinforcing the importance of quality improvement.
2. The Lean Office Game
This business training game is an experiential learning simulation-based around processing customer orders for computer equipment. Participants in the Lean Office game are asked to take on various roles. The game includes sales, customer liaison, finance, transport/logistics, operations, warehouse and supervision. The objective of the game is to highlight typical inefficiencies that are found in modern office work environments and demonstrate how simple changes can be implemented to improve effectiveness and customer satisfaction. The participants are challenged to correctly complete data on invoices and order acknowledgement forms.
3. The Lean Six Sigma Catapult Kit
This is an ideal practical training simulation to demonstrate the application of problem-solving techniques such as fishbone diagrams, brainstorming and six sigma / DOE. It is used as the basis of exercises to understand the process, control variation and deliver improved performance.
4. The Plug Game
The Plug Game is a manufacturing simulation based on assembling 3 pin plugs, it is ideal for business process improvement training to demonstrate the layout, push/pull, one piece flow, kanban, work balance and the benefits of training.
Related
Spotify & Scrum | How Spotify Does Agile | 2 Short Video's
Agile • Scrum • Spotify Case Study
Lean | 4 Inspiring TED Talks about Lean and Continuous Improvement
Continuous Improvement • Lean • TED Talk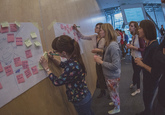 Free Online Scrum Training | The Scrum Training Series
Continuous Improvement • Lean • TED Talk