1. Looking for a job? Highlight your ability, not your experience
Very few of us hold jobs that line up directly with our past experiences or what we studied in college. Take TED Resident Jason Shen; he studied biology but later became a product manager at a tech company. In this quick, insightful talk about human potential, Shen shares some new thinking on how job seekers can make themselves more attractive -- and why employers should look for ability over credentials.
2. How to stay calm when you know you'll be stressed
You're not at your best when you're stressed. In fact, your brain has evolved over millennia to release cortisol in stressful situations, inhibiting rational, logical thinking but potentially helping you survive, say, being attacked by a lion. Neuroscientist Daniel Levitin thinks there's a way to avoid making critical mistakes in stressful situations, when your thinking becomes clouded -- the pre-mortem. "We all are going to fail now and then," he says. "The idea is to think ahead to what those failures might be."
3. Why the Best Hire Might Not Have the Perfect Resume
Given the choice between a job candidate with a perfect resume and one who has fought through difficulty, human resources executive Regina Hartley always gives the "Scrapper" a chance. As someone who grew up with adversity, Hartley knows that those who flourish in the darkest of spaces are empowered with the grit to persist in an ever-changing workplace. "Choose the underestimated contender, whose secret weapons are passion and purpose," she says. "Hire the Scrapper."
4. What I learned from 32 grueling interviews
What's less fun than a job interview? Doing it again. And again. And again. Ashwini endured 32 interviews before she landed a job and kept notes on every experience and lesson along the way. Ranging from funny to unbelievable, she shares what she learned (lesson #3: don't wear green) and shows what it's like to search for work as an aspiring businesswoman in India.
5. 10 Ways to Have a Better Conversation
When your job hinges on how well you talk to people, you learn a lot about how to have conversations -- and that most of us don't converse very well. Celeste Headlee has worked as a radio host for decades, and she knows the ingredients of a great conversation: Honesty, brevity, clarity and a healthy amount of listening. In this insightful talk, she shares 10 useful rules for having better conversations. "Go out, talk to people, listen to people," she says. "And, most importantly, be prepared to be amazed."
Related Posts
How to Avoid Death by Powerpoint | Short Video
Bad Presentations • Powerpoint • Public Speaking
5 Learning & Development Podcasts Worth Listening To
Learning and Development • Podcast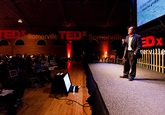 Public Speaking | 5 TED Talks Every Public Speaker Should Watch
Public Speaking • TED Talk