We've been working with Google since December 2017 delivering the Lean Six Sigma Green Belt course. The training is organised on a supply and demand basis and its purpose is to help the staff to look at the current processes and find alternative techniques and processes that will save the company time and money.

Staff from across the business sections have achieved their Green Belts, completing projects with savings and return on investment of over €2,000,000!
Our Lean courses have been designed to help learners enhance and build on their existing skills, boosting performance and productivity. 

We know from experience that people remember when the content is engaging, that's why we provide fun and entertainment training with interactive and practical exercises:


There was also the "Jammys Awards" in the training!


Pádraig McCabe emphasises that Lean is about empowering people and is a culture. And to allow people engagement, he facilitates opportunities for individual expression and then, rewards and recognise successes. The Jammy's also help to reinforce that message that rewards make people feel good and encourage participation.
"It was an intense week, full of learnings. Thank you, Padraig, for introducing us to the world of Lean Six Sigma not only on the methodological but also on the cultural level. Belinda, on behalf of the Google group: a massive thank you for all the hard work making this training possible for us." - David Denes Pall, Measurement & Attribution Consultant at Google


Related
Lean | 4 Inspiring TED Talks about Lean and Continuous Improvement
Continuous Improvement • Lean • TED Talk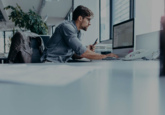 4 Game Based Lean Training Ideas
Lean • Lean Training Game
Spotify & Scrum | How Spotify Does Agile | 2 Short Video's
Agile • Scrum • Spotify Case Study