Having worked with Skillnets over the past 5 years, we are familiar with their culture and training objectives and strive to make our courses as relevant, interactive and inclusive as possible.
DCM Learning works closely with a number of Skillnets across the country. We coordinate with the Skillnets to ensure all training runs smoothly and that all documentation is completed and returned to the Network Manager.
We are confident in our ability to deliver an excellent service to Skillnets and member companies and we are happy to put you in touch with any of our existing clients.



Try something different!
Popular with Skillnets & Member companies


Skillnets We Work With
Remote & Online Training
Our virtual learning courses are designed to recreate a classroom experience online, enabling full interactions with the instructor leading the course.
DCM's virtual classroom has all the benefits of classroom study without the hassle and cost of travel. You'll get full interaction with the instructor throughout the course, using high-quality audio equipment and the GoToTraining platform.
Our Remote Training Courses
Our remote courses are similar to our classroom-based courses in that you will log in to a trainer-led session over a number of consecutive days. Each session will run from 9:30 to 2:30, with an additional two hours scheduled to complete exercises and readings to prepare for the next day's session.

They are ideal for learners who are looking to find a course that they can complete from their own home or office but is still facilitated by a trainer, interacting with other learners and gaining experience and feedback from their peers.

We use GoToTraining software by LogMeIn for our virtual learning courses and we have written a post all about how this software works, including how we can help set you up to complete the course using the software.


Our Online Training Courses
Our online courses are ideal for learners who are looking to find a course that they can complete at their own pace and according to their own schedule. They consist of pre-recorded videos with an in-depth discussion of all the course topics, with each module followed by relevant quizzes and exercises.

You can work at your own pace and complete the modules and assessments when you feel most comfortable and when suits your schedule. Our DCM Learning expert trainers and support staff are always on hand to answer any questions you may have while working through the content or while completing your assessments.

An additional benefit of our course is the live & interactive Question and Answer session with one of our expert trainers. This session will be scheduled and you will be able to work through any questions or concerns about the course you may have, as well as gaining the experience & knowledge from your fellow learners.

Trusted by these great companies


Related Posts
5 Learning & Development Podcasts Worth Listening To
Learning and Development • Podcast
GoToTraining | Our Interactive Online Training Platform
GoToTraining • Virtual Training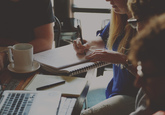 Our Online & Remote Training Courses | What are the Differences & Benefits?
Classroom Training • Learning and Development • Online Training • Remote Training